Details

Written by

Alexander Frhr. v. Strachwitz

Category: News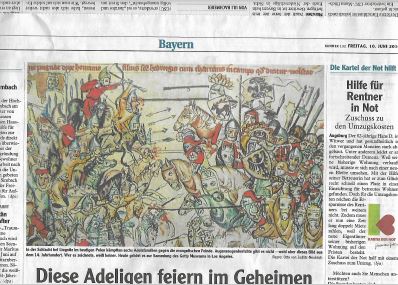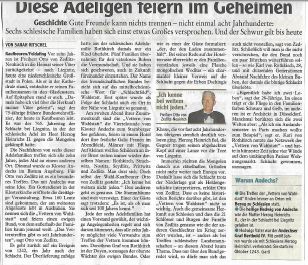 Details

Written by

Alexander Frhr. v. Strachwitz

Category: News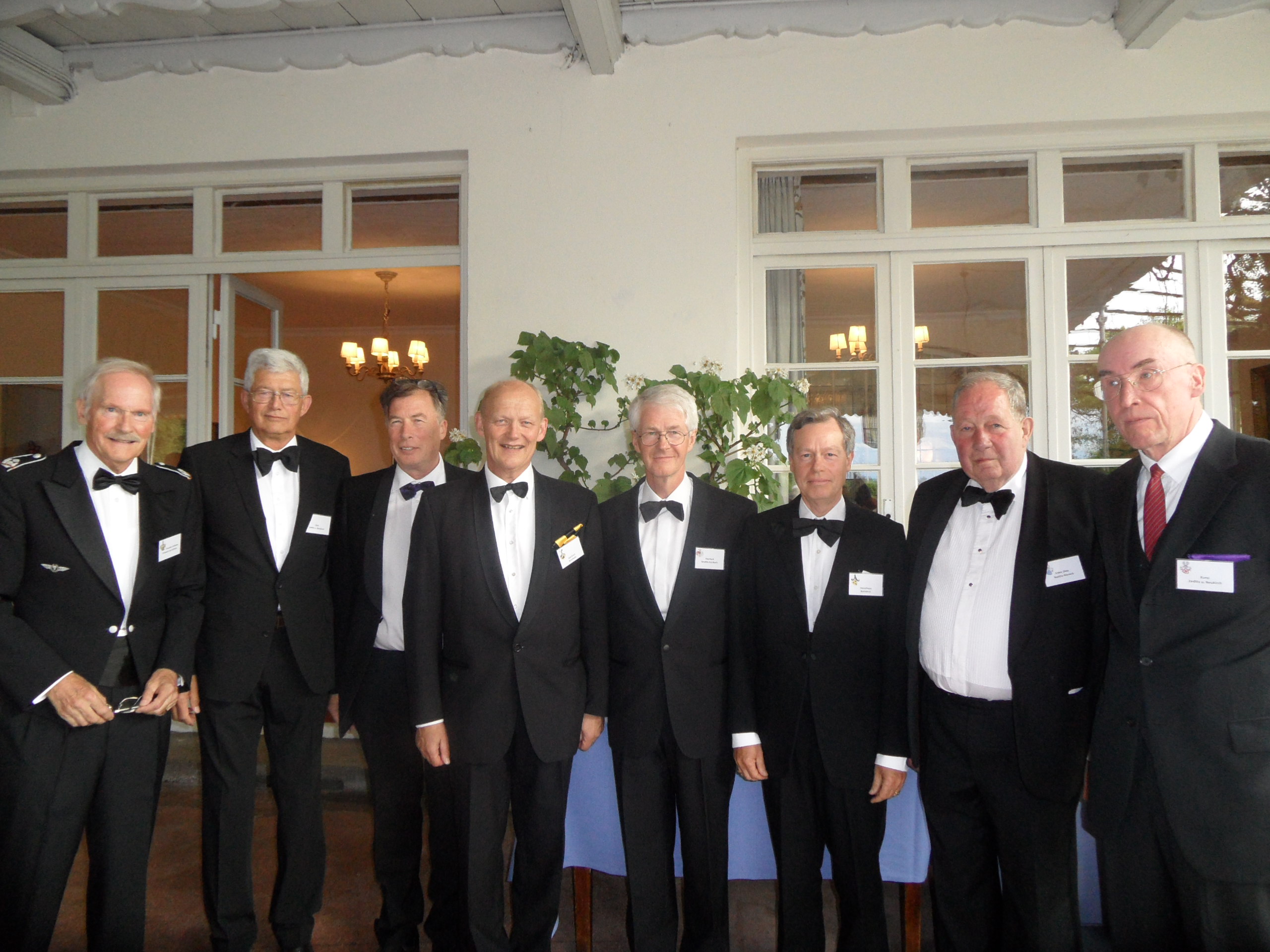 vlnr.:
Christian-Wilhelm von Prittwitz u. Gaffron,
Otto von Zedlitz (verantwortlich für ÖA),
Harald von Seydlitz-Kurzbach (neu gewählt),
Karl Ernst Graf Strachwitz,
Eberhard von Seydlitz-Kurzbach (ehem.),
Dr. Dorotheus Graf Rothkirch (Doyen der Vettern von Wahlstatt),
Franz-Otto von Nostitz-Rieneck,
Kuno von Zedlitz u. Neukirch
Foto: Sarah Ritschel, Augsburger Allgemeine
Aufgenommen am 4. Juni 2016 im Hotel Kaiserin Elisabeth am Starnberger See
Details

Written by

Alexander Frhr. v. Strachwitz

Category: News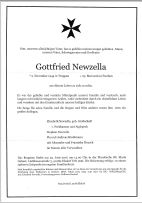 Details

Written by

Alexander Frhr. v. Strachwitz

Parent Category: Persönlichkeiten
Category: Chris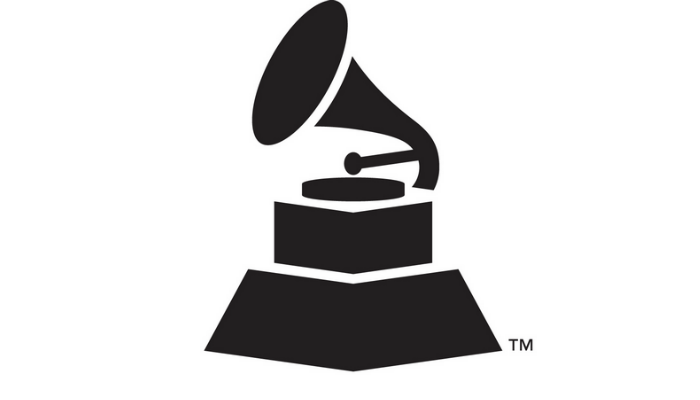 Grammy zeichnet Chris Strachwitz aus
Chris Strachwitz (Christian Graf Strachwitz a.d.H. Groß-Reichenau) wird in diesem Jahr mit einem Trustees Award für sein Lebenswerk ausgezeichnet. Dies gab die amerikanische Recording Academy, die die Grammy Awards vergibt, am 13. Januar 2016 bekannt. Die besondere Auszeichnung wird durch Beschluß des Vorstands der Recording Academy an Persönlichkeiten verliehen, die in ihrer musikalischen Karriere einen wesentlichen Beitrag zur Aufnahme von Musik geleistet haben. In der Würdigung heißt es:
Chris Strachwitz has made his living celebrating the music he loves – music that forms the fabric of both American and international culture. He is the founder of Arhoolie Records and produces much of the content he releases. To blues fans he is a legend, releasing seminal works by Mississippi Fred McDowell, Mance Lipscomb, Charlie Musselwhite, Rebirth Brass Band, Big Joe Williams, Big Mama Thornton, Lightnin' Hopkins, Earl Hooker, and Elizabeth Cotten, and many others. Strachwitz also produces Cajun music, highlighted by his releases by Clifton Chenier, and also focused on Mexican recordings, especially Norteño music.
Mit ihm erhalten in diesem Jahr John Cage (posthum) und Fred Foster diese Auszeichnung, die in der Vergangenheit u.a. an Bela Bartok, die Beatles, Walt Disney, George Gershwin und Krzysztof Penderecki verliehen worden war.
Die vollständige Presseerklärung findet sich hier: https://www.grammy.org/files/press-release/pdf/2016smarelease_final.pdf
Details

Written by

Alexander Frhr. v. Strachwitz

Parent Category: Persönlichkeiten
Category: Chris
THIS AIN'T NO MOUSE MUSIC! (Website)
The Story of Chris Strachwitz and Arhoolie Records
Feature-length Documentary by Chris Simon and Maureen Gosling
"Smokin' hot!" —Radio One, New Zealand
"One of the best music documentaries around...This film puts the heart and soul back into music and opens your mind to incredible artists you may never have heard of." —The Film Reel, Toronto
Chris Strachwitz is a detective of sounds, an archaeologist of the deep American music, music with roots that strike straight into the country's heartland. He is the guiding force behind the legendary Arhoolie Records, producing albums that the Rolling Stones and many others played the grooves right off of. Since 1960, Strachwitz has been recording the authentic pulses of the great American music, throbbing away in the backwoods of the nation. His label offers an unparalleled catalogue of blues, Cajun, wild Hillbilly country, Tex-Mex and New Orleans R&B. These diverse musical strands seem to have grown right out of the ground they are played on. With tape-recorder in hand, Strachwitz traveled to plantations and prisons, roadhouses and whorehouses, churches and bayou juke joints. He returned with recordings that would revolutionize the sound of popular music.
In This Ain't No Mouse Music!, their vivid portrait of an obsessive sonic sleuth, filmmakers Chris Simon and Maureen Gosling take a hip-shaking stroll from New Orleans to Appalachia and right into very the DNA of rock'n'roll. In this beautifully shot film, we come face to face with the creators of indigenous music, from the great Clifton Chenier to fiddler Michael Doucet, from Flaco Jimenez to the Pine Leaf Boys, playing songs that are endemic to their place and circumstance, to dialect and class, to climate and landscape. Their music is now highly endangered by the merciless steamroller of pop culture, assimilation and commercialism, which makes Strachwitz's desperate pursuit to track down every last artist all the more urgent. But these songs aren't meant to be locked away in a Smithsonian vault to be decoded by folklorists and musical anthropologists. This film is a living cultural history with a soundtrack that bites and kicks and screams. Even 50 years later, Arhoolie's records remain alive, unruly and still so sharp that some songs can cut you right down to the soul.
—Jeffrey St. Clair, Author Born Under a Bad Sky
Details

Written by

Moritz Graf Strachwitz

Parent Category: Geschichtliches
Category: Familiengeschichte
Kurze Geschichte der Familie der Grafen und Freiherren v. Strachwitz

von Moritz Graf Strachwitz

Der Name der Familie kommt vom Ort Strachwitz, ca. 10 km westlich des Stadtzentrums von Breslau. Heute ist der Ort Strachvice (Strachowice) in Breslau eingemeindet, und auf seiner Grundfläche befindet sich der Flughafen von Breslau (der Ort "Strachwitz" bzw. "Strachvice" ("Strachowice") bei Wahlstatt im Kreis Liegnitz hat mit unserer Familie nichts zu tun).
Die ersten Träger des Namens waren ein Johann, der 1338 in Strachwitz eine ¾ Hufe kauft und diese 1339 seinen Brüdern Heinrich und Martin überläßt. Im selben Jahr 1338 kauft ein Thilo Äcker in Strachwitz. Dann wird der Breslauer Ratsherr und Schöffe Nikolaus genannt, der 1346/47 als in Strachwitz ansäßig urkundlich erwähnt wird. Es war früher durchaus üblich, daß wohlhabende Bürger einer Stadt außerhalb der Stadtmauern Grund erworben haben und dann im Zuge der Entstehung von Familiennamen nach diesem Ort benannt wurden. Der Name blieb der Familie, auch als sie gar nicht mehr in Strachwitz ansäßig war.
The Strachwitz Family is an old European noble family whose roots are traceable in the 13th century in Slesia what is now Poland.
Today, the Counts and Barons Strachwitz and their families live mainly in Germany, Austria but also in the U.K., U.S.A., Argentina, Australia and other countries.
This website serves as a means of communication between the members of the family as well as a general information platform.