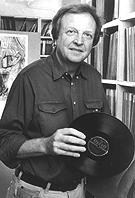 CHRIS STRACHWITZ
Record Producer and Label Founder, El Cerrito, California
For many years, traditional arts experts from around the country who recommended each year's list of National Heritage Fellows lamented the lack of an award for individuals whose contributions to the traditional arts were primarily as organizers, documentarians, producers, educators and/or advocates rather than as artists. Fiscal Year 2000 marks the first time that this new type of National Heritage Fellowship, the "keeper of tradition" award, will be given.
Chris Strachwitz came to the United States as a refugee from Germany after World War II. Writes folklorist Dr. James Griffith: "Growing up in California, he was fascinated by the rich mix of traditional musics that he was able to hear on the radio: old-time country music from the valley and from the border stations, blues, [gospel, jazz,] and Mexican music of various kinds. [In 1960], he met Mance Lipscomb, the great Texas songster and guitar picker, and produced an LP record of him. This was the beginning of Arhoolie Records. . . . Over the years, Chris has sought out and recorded a truly huge number of traditional musicians and singers, mostly from the United States, and issued their work on his Arhoolie label. Some, like Clifton Chenier, Lydia Mendoza, and Marc Savoy, were widely known within their own cultural communities. He brought these artists to a wider audience and helped their careers move a step further. Countless others were only known locally. Many of these were able to perform for audiences beyond their own communities as a direct result of Chris's efforts. He has recorded blues singers and musicians, gospel groups, norteño conjuntos, Texas-Mexican singers, cajun and zydeco bands, [jazz,] and old-time country musicians. . . . He has almost invariably gone for the music that excited him, regardless what the current politics of the 'folk scene' might have been." Strachwitz has been equally committed to reissuing vintage folk recordings from the early 20th century. His reissues of early recorded Mexican-American border music, the earliest recordings of Mexican mariachi music, historic Greek, Polish, and Ukrainian music, and Cajun classics are major contributions to keeping past folk musical genius a living part of the present.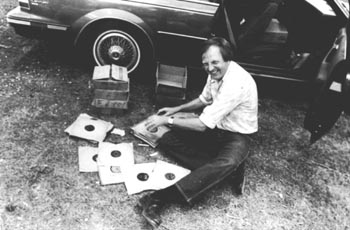 In addition to his recording activities, Strachwitz produced concerts including the first Berkeley Blues Festival in 1966, and concerts with Bill Monroe in Santa Clara and Berkeley, California. He toured with Lightning Hopkins, Mance Lipscomb, and Fred McDowell, performing at colleges and clubs. He conceived of and underwrote the groundbreaking, milestone film documentary
Chulas Fronteras
on Texas-Mexico border music, produced with Les Blank, and co-produced and co-directed the comprehensive film about Cajun and Zydeco music,
J'ai Eté Au Bal.
With James Nicolopulos, he authored the book-length work
Lydia Mendoza: A Family Autobiography,
on the pioneering borderlands singer who would later be honored with the National Medal of Arts by President Clinton.
In 1995, Strachwitz put a portion of his profits into the not-for-profit Arhoolie Foundation to ensure that the music he has collected will be available for future generations. The foundation is just one more sign of his passion and concern for folk music and musicians. Griffith adds: "This man is one of a very few who . . . have done this much for traditional art forms in the United States."